Mechanical engineering (MECH), the major with the second-highest undergraduate enrollment at Rice University, is having an infrastructure problem and is doing something about it.
"We keep growing. The facilities were adequate when we had a graduating class of 20 or 30 students each year. Now it's 60 or 70 and things are getting crowded and need to be updated," said Laura Schaefer, the Burton J. and Ann M. McMurtry Chair in Engineering and chair of MECH.
In a project overseen by Matthew Elliott, a lecturer in MECH, the department is incrementally refurbishing the lab space in the Mechanical Engineering Building, built on the engineering quad in 1984. With funding from various sources – Chevron, Rice Engineering Alumni (REA), the Cyrus Johnson Foundation, among others – they are upgrading equipment.
Until 2013, the department was known as mechanical engineering and materials science. That year, it split into two departments – MECH and materials science and nanoengineering.
"We're still dealing with the impact of that decision," Schaefer said, "and we want to make sure our laboratory resources are the best they can be for our students." 
"We get student complaints about inadequate equipment. Now we're doing something about it," said Elliott, who teaches such lab courses as MECH 343, "Modeling of Dynamic Systems," and MECH 213,  "Sophomore Lab."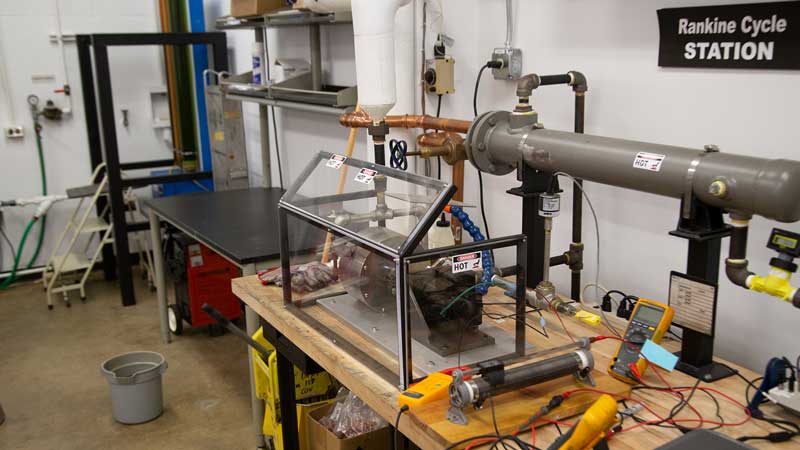 A $69,000 grant from Chevron has been used to purchase equipment related to both traditional and alternative-energy research. The lab is located in MEB 117. Supplemental lab space is located in the Ryon Engineering Laboratory.
One of Elliott's former students is Justin Daily, who earned his B.S. in MECH in 2017 and now works as an application engineer with the Tecumseh Compressor Co. of Ann Arbor, Mich. Thanks to their connection, Daily arranged for Tecumseh to donate a compressor to Rice for use with the lab's air-conditioning research equipment.
"The compressor is the heart of an AC or refrigeration system. The unit we were using was very old," said Elliott, who noted that the lab still relies on a Toyota Corolla engine donated to the department by Toyota in 1994, paired with a Caterpillar engine donated in 2020.
"There's interest in increasing the education and research focus in aerospace engineering at Rice, among other things. To do that we'll need more equipment, more funding, more staff," Schaefer said. "We're providing our undergraduates with a first-rate education, but we always could be doing even a better job." 
Last year, the Mechanical Engineering Undergraduate Advisory Board estimated that after the undergraduate population grew by roughly 35 percent between 2005 and 2013, the average number of MECH majors in a graduating class increased from 30 to 65 students per year — an approximately 120 percent increase -- and the popularity of MECH as a major has continued to grow.
"The university is the sum of its people. What makes someone have a good university experience and then reflect nicely on that university afterwards is the experience that they have as undergraduates," said Schaefer, who earned her B.S. in MECH from Rice in 1995. "It's short-sighted to just chase after these topical areas without focusing on the overall undergraduate experience, because why do people choose Rice?"